shallow water bay fishing boats,Tran Sport Boats are custom built we use no wood,designed for a smooth, dry ride. Hand-laid, tunnel, built to handle bay and the Texas surf.
"The Shallow Water Fishing Boat"

Within the hull of each Tran Sport Boat there are (Three) Foam-Filled Stringers.

The three stringers in the hull are "strengtheners" that run the length of the boat.
These stringers ensure that the craft will not sink, even if the hull is damaged or cracked!



Tran Sport hull stringers, filled with foam and laid over with a fiberglass shell.
Other Standard Features

• 100% Fiberglass
• Center Console
• Self-Bailing Deck
• Foam-Filled Stringers
• 5-Year Hull Warranty
• Tunnel Drive
• 2 Coolers

• Hull Colors in White or Gray
• Stainless Steering Wheel
• Stainless Hand Rail
• Tinted Windshield
• Rod Holders
• USCG Running Lights
• Deck Cleats
Hydraulic Steering

Custom Hull Colors
Hydraulic Transom (Trans Jack Plate)
Aluminum Trailer
Custom Deck Layouts
Electronic Accessories


Live Wells
Leaning Post(Aluminum or Fiberglass)
T-Top
Raised Deck
Trim Tabs(Standard on the F-23)
Electric Trolling Motor's

Where They Are Built

Tran Fiberglass Boats New 18,000 sq. ft Facility

How Are They Built?

One Of Our Mold Rooms

"Here Is a 210V Cat Just Out Of The Mold"

Tran Sport boats are 100% hand-built. Above,One of the mold's in which Tran Sport Boats are formed.

The Assembly Room


Starting The Assembly Process of A New Tran Sport Boat

Above is a photo of the plug (top) being removed from the newly-formed mold.
The mold will be used to form the hull of the boat.



Above: After setting the top section on the 22-T on the left and the 210V Cat on the right, the semi completed boats are moved to the assembly room where the accessories are put in place.




The finished product - This Tran Sport boat was built for the Texas Parks and Wildlife Dept. Here, a Parks and Wildlife officer was on-hand for the floating of their new boat.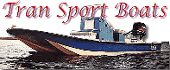 Visitors Have Seen This Page.

E-Mail: TranSport@TSWF.COM
Tran Fiberglass Boat Co.
1729 1st Street
Palacios, TX 77465
Phone 361-972-6629 Fax 361-972-6630
---
Copyright © Allison Royce and Associates. All Rights Reserved.