The catamaran design of the 210V-CAT's hull provides greater stability than conventional boats, and since less of the hull is actually touching the water at a given time, there is less drag. This translates to greater efficiency.


Back to The Showroom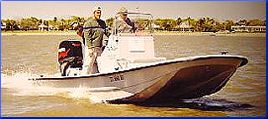 Front view of the efficient catamaran hull of the 210V- CAT.


57093 visitors have seen this page.